Finest by far of 4 known silver award medals from the 1895 Cotton States and International Exposition, Atlanta, GA
This item is FOR SALE. Due to its incredible state of preservation and that it includes the only known surviving case (virtually the same as the day it was made), only offers a couple orders of magnitude higher than the sale of the next most valuable specimen will be considered (this was the specimen from eBay saved by Worthpoint which went for about $2,800).
This specimen was awarded to West Disinfecting Company
Note: For information on the other known specimens as well as a brief history of the exposition, the silver smith whose company manufactured the medals, and of the company that originally received the award, see this page https://enumismatist.com/new/2021/10/13/1895-cotton-states-silver-award-medal-history-and-other-silver-medal-examples/
This specimen exhibits original unmarred surfaces with beautiful original toning. It is incredible it survived for such a period in the condition it is in. Perhaps even more incredible is the condition of the case, as you will think you are back in 1895 the case is so fresh. I have never seen any fabric or paper materials of this age in anywhere near the condition of this case. Combine the best medal example by far of the 4 known extant silver ones with an immaculate case with vibrant stunning colors and you have one of the rarest items in several collectible fields: Numismatics, World's Fairs (and other world exhibitions), Titanic disaster (a tangential tie), history of science and progress, silver smith's art and classical medallic high relief engraving.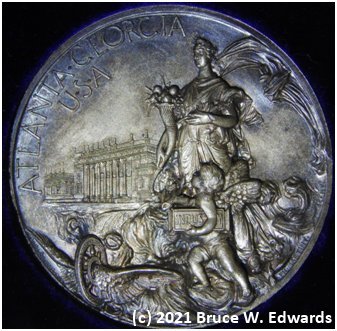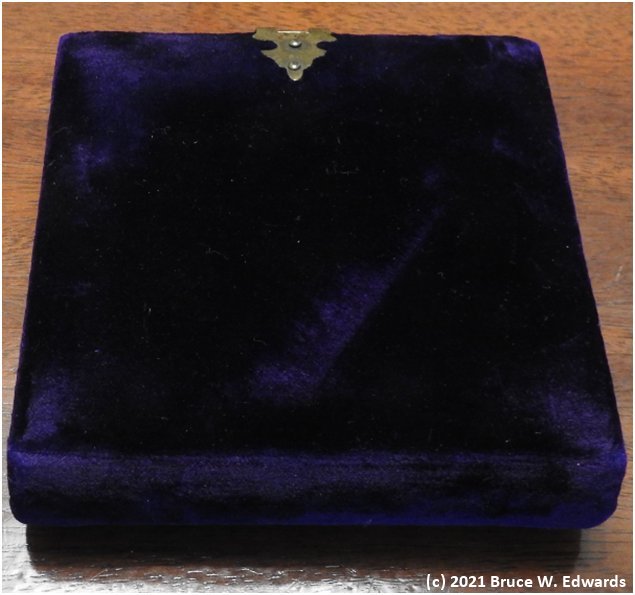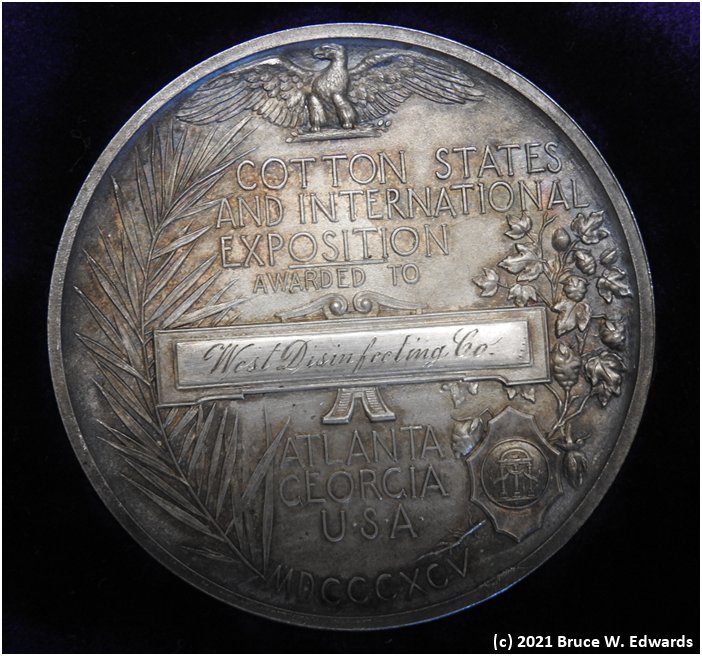 ---
History and background:
Best thing I ever scored at an auction (in New Zealand no less).
The medal was awarded to the company when Robert S. West, the inventor, still had rights to the products produced until sometime in 1898 (so the medals were also delivered when he still had the rights). However, Emil Taussig was the marketing and sales agent so it is possible he or his representatives (likely) were at the exhibition and had receipt of the medal when delivered and may have never turned it over to Robert? In any event, Emil died on the Titanic in 1912!
The curious thing is how the medal ended up in New Zealand and in such superlative condition (especially the case). This implies minimal changing of hands and likely a child or other relative of the original owner (either Robert S. West or Emil Tassig) immigrating to New Zealand and keeping it in a drawer unseen for many years.
I lived in New Zealand from late 2010 until July 2021. When I found it listed on TradeMe (the New Zealand version of eBay) I knew I had to have it since it was so pristine and acquired it on May 22, 2014.
TradeMe listing after the current owner won the lot on TradeMe: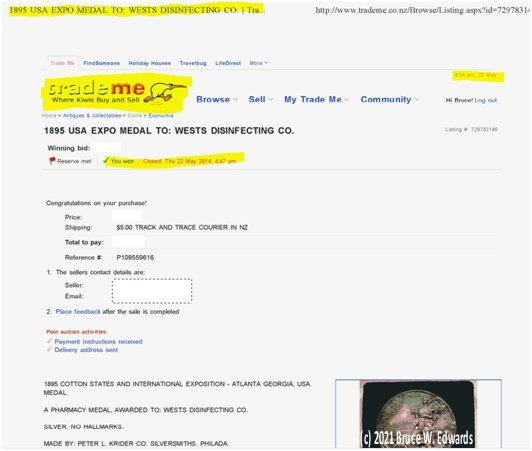 During correspondence with the seller (who has or had at the time an antique shop) she said it was brought in by someone who said it had been in the family for ages. I'd like to know if they trace their relation back to Robert S. West (I think this is more likely) or Emil Taussig but this is a tidbit lost to history. (Information on these persons is in the other attached document).

---
Further photos