We have here a 1944D Mercury dime slabbed by NGC. My impressions as I look at the photos. Close inspection of both sides in the close up photos show indications of a little "cabinet friction" that may be more apparent if seen in person. A small number of "bag marks" can be seen. The coin has somewhat unnatural luster and some toning. The general appearance lead me to believe this coin has been dipped once and is retoning.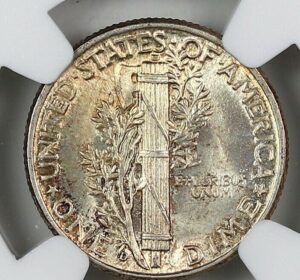 Overall the coin looks fairly nice and looks to be a choice AU58+ (if in person inspection confirms the friction) or a low end uncirculated (mainly due to the somewhat washed out appearance from the likely dipping) if no cabinet friction wear is apparent on in person inspection.
Well, we can see that NGC gave this coin an unqualified MS65.